Tubing is an amateur activity. People ride on top of an inner tube. They can do it either on water or snow, also, through the air. The tubes themselves are also called "donuts" or "biscuits". Obviously, because of their shape!
For those who don't know, or know very little…
SNOW TUBING IN GENERAL
Snow Tubing is an amazing way for people who love winter, and for those who want to experience the fun of winter recreation from a completely new perspective.
The best about this activity might be that one doesn't need to have any experience. Sounds good right? All you need to do is simply grab the tube and let your fun begin!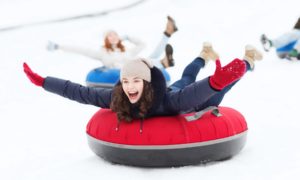 In addition, here are 4 variations of Tubing.
Water Tubing
Snow Tubing
Kite Tubing
Summer Tubing
This article is all about Snow Tubing. Later on, we will know how it is like in Armenia.
The roots of this activity, reportedly, began as far back as the 1820s, right in the Alpine Mountains. One of the best wintertime activities, snow tubing is actually quite similar with sledding.
People generally perform this kind of tubing either on a hill or a slope. They use gravity to push the rider to the bottom of the grade. Then, the rider often returns to the slope's top with the tube in order to repeat the process.
The very little contact between most tubes and snow lets tubers reach significant speeds while riding, especially on steep slopes. Because of the circular shape of snow tubes, or "donut" shape, as mentioned above, people may have a hard time trying to control the course and the speed of a tube while riding on snow.
Even though a sled rider is able to drag his arms on the snow in order to brake or steer to a degree, doing the same thing on a tube will, however, cause the tube to spin. The obvious lack of control has led to various injuries, some even serious when riders have struck hurdles or obstacles such as trees.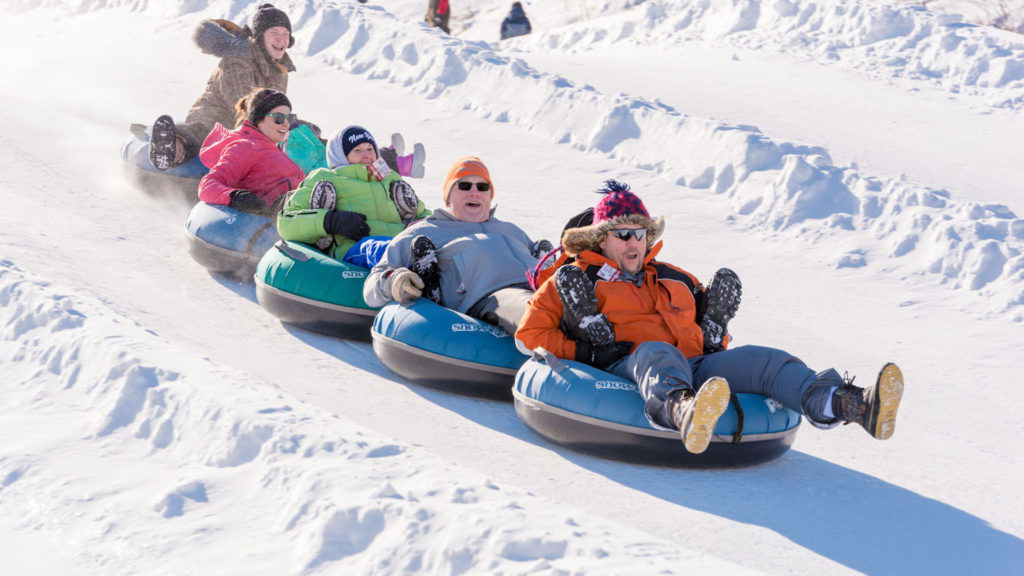 Several ski resorts offer courses devoted entirely to tubing. These courses generally have slopes or barriers on the periphery in order to guide the tubes along a safe course.
It is also possible to tow a tube through the snow behind a snowmobile. That is very similar to towed tubing on water, the only exception might be that the snowmobile replaces watercrafts.
Common Equipment
Tubing, in general, can require various pieces and kinds of equipment, which highly depends on the variety of tubing a person desires to engage in.
The one most common piece of equipment within all of the forms of tubing mentioned above is the tube itself. Although they vary in construction, all tubes share some general characteristics:
Inflatable
Made of a thin and flexible, synthetic material, like rubber or PVC plastic
Disk, donut or hot dog shaped Tubes are used for riding on snow. They are specially designed tubes with middle points being dimpled. This can prevent the rider together with the tube itself from dragging on the snow.
Snow tubes can be designed to have handles. Tubing, however, is not without any danger. Deaths from snow tubing have happened in 2007, 2008, and 2011 from trees as an obstacle. In 2015 a snow-tube rider fatally collided with a light pole.
Bad news aside, let us move to winter Armenia.
THE COLDEST SEASON: WINTER IN ARMENIA
By visiting Armenia in warm seasons, one can enjoy the nice and warm atmosphere of the country, get acquainted with ancient and modern architecture, walk in the cool streets of Yerevan city, and generally, spend a wonderful time in the warm and hospitable atmosphere. Winter Armenia, however, can be even more interesting.
The indescribable beauty of the mountains covered with snow, the snow white capital city… Winter tours in Armenia are quite different from spring, summer and autumn ones.
Armenian winter begins in late November or early December. The average daily temperature in Winter Yerevan ranges from +5 to -5 C. In December, you can feel the Christmas atmosphere everywhere. Various decorations together with festive lights… people are gradually preparing for the upcoming holidays.
Winter holidays in Armenia is especially exciting and fun in mountainous areas. There are several ski resorts, which offer great opportunities for extreme lovers.
Finally…
SNOWTUBING ARMENIA
TSAGHKADZOR
It is impossible for someone to visit Armenia in winter and not have a rest in the most famous ski resort

Tsaghkadzor

and therapeutic recreation in

Jermuk

.

Unlike Yerevan, the temperature in these regions is quite lower. Tsakhkadzor – the most popular ski resort in Armenia, as mentioned above, has a winter temperature ranging from +3 to -10 C. Due to the favorable weather, one can enjoy their favorite activities like skiing, snowboarding, sledding and snow tubing all year long.

The best way to visit Tzaghkadzor is to go with a group, like family members or friends. It's when one should forget about their regular life.

Extreme lovers may ski or snowboard, however, if you are not good at any of these sports, there is a solution. You can always ride on a sled or try Snow Tubing.

Nothing seems more fun than snow tubing down a hill covered with snow, and.. at a great speed!  Tsaghkadzor resort will give you the best time of your life. Aghveran Park resort is also another opportunity for snow tubing lovers.

Doesn't matter what age you are, whether you are alone or not, snowtubing Armenia is fun for all!