There are variety of reasons why people shop at malls. For an instance, malls are extremely convenient. They also provide shoppers with a number of stores and shopping opportunities. At last, one of the main reasons is that malls are the perfect places for entertainment.
Nothing else can reveal a someone's taste, preferences, and character as much as shopping. For many people around the world, shopping has become a hobby. Different people perceive it in their own unique ways.
Yerevan Shopping Malls
The shopping culture of Yerevan has experienced a very notable rise. During the recent years, it has reached to a completely different level. Big shopping and entertainment centers keep appearing in Yerevan. They all offer a huge variety of brands, both local and world-famous. All of the malls can satisfy people of any taste.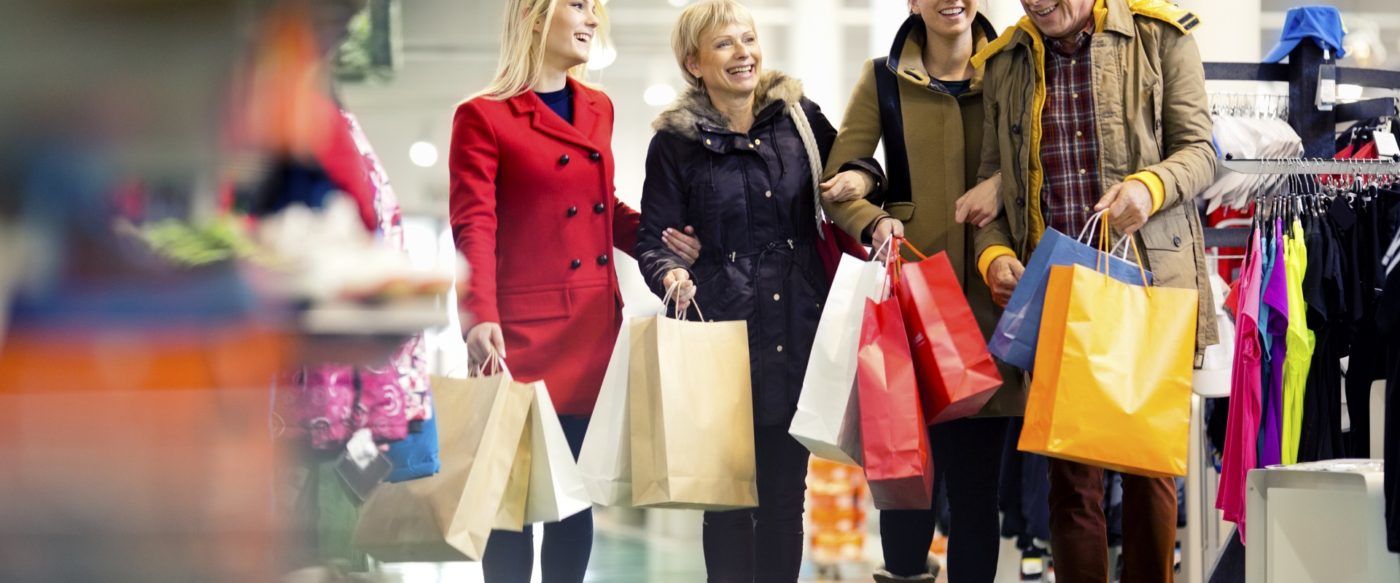 If back then it was a tough task for someone in Yerevan to find the right clothes, dresses, accessories and so on, which would be in their taste and suit them. Now, however, there is nothing more to worry about. People in Yerevan and generally, everyone from Armenia, got the chance to follow fashion trends, develop their own individual styles and simply spend a very good time. All this due the shopping and entertainment centers of Yerevan!
Currently, the most popular malls are Yerevan Mall and Dalma Garden Mall. The newly opened RIO mall is also gaining a huge popularity. There are many other malls as well that people are always happy to visit!
These malls offer many brands ranging from Mango to Armani. The three malls mentioned above are able to provide you with world-famous brands. Not to mention that they all are entertainment centers. So even just visiting there will leave you satisfied!
For those who prefer local products can visit Rossia Mall. On the other hand, there is also Arinj Mall which is quite affordable and has many goods to offer.
Yerevan shopping centers also include food courts, where you take a break and have a quick snack, or maybe lunch.
A few of the malls also include cinema centers. Watching your favorite movie after a long shopping day is another good idea! In some of the malls, one can even take their kids to hairdresser salons, designed special for children, where they can get an awesome new hairstyle while watching cartoons or playing games.
Now we will talk briefly about the most popular shopping malls of Yerevan, so you have a better idea what to choose!
DALMA GARDEN MALL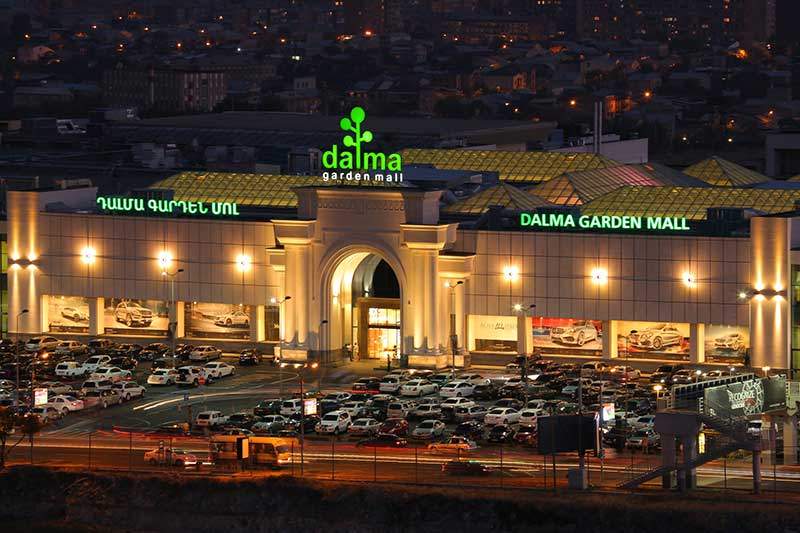 The first mall we are going to talk about is Dalma Garden Mall. It is the first ever mall Yerevan has possessed.
Dalma Garden Mall was opened in October 2012 by "Tashir Group". Dalma is the first ever family entertainment complex mall in Armenia. It has 50,000 sq. m territory. Shortly after it was opened, it became the most popular shopping center.
It is a shopping, dining, and also entertainment center. Dalma Garden Mall is the second-largest shopping and entertainment center in Yerevan.
Dalma has 116 famous brand stores, various cafes, a supermarket, household supermarket, a golden store, multiplex cinema, children playground, bowling and food court with over 10 food spots. In short, other than 116 brand stores, it has 1 hypermarket, 18 restaurants and cafes, and 6 cinema halls. In Dalma, you can also find the largest jewelry centers in Yerevan.
Dalma Garden Mall also consists of various places of entertainment, including cinemas, playgrounds, a bowling center.
All customers and visitors can find their own style in Dalma Garden Mall. From shopping centers to cinema halls, fast food centers, cafes, and restaurants. After taking long tours and shopping in the mall, one can satisfy their hunger in the Food Court.
As an entertainment center, Dalma never fails to amaze its visitors and customers with various interesting and fun events.
Dalma holds many events during different holidays, like the Children's Day, Valentine's Day, Women's Day, Christmas and the New Year, International Family's Day. There also Fashion shows.
Read in more detail in the following article: Dalma Garden Mall
YEREVAN MALL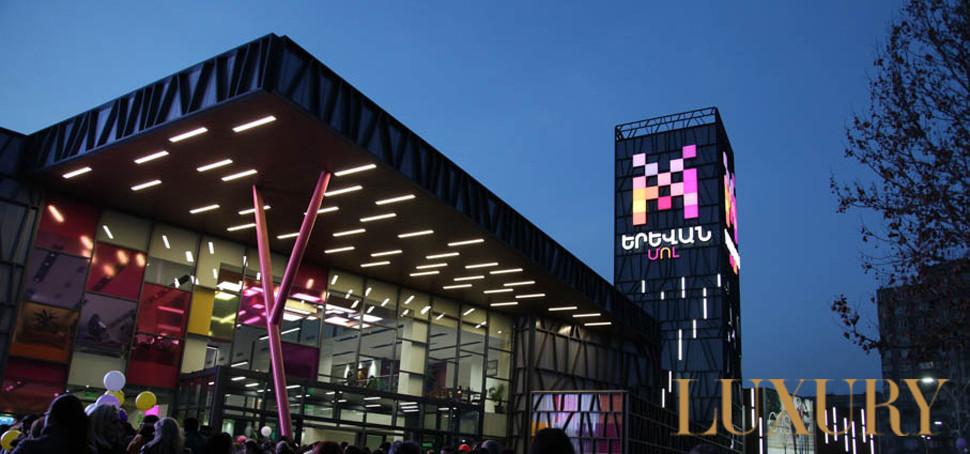 One of the most popular shopping centers in Armenia, Yerevan Mall opened its doors on February 21, 2014. It is the largest shopping and entertainment center built with European standards.
The construction of the mall is one of the largest business projects which started in 2010. Its territory is 59,900 square meters. The mall also has a unique architectural style.
The two-story building is the largest mall in Armenia with its number of stores and the area which it occupies. Thanks to the mall, dozens of foreign famous brands are represented in Armenia for the first time, and the Armenian "Zara" is the largest in the region. The only Mango Man in Armenia also opened its doors at Yerevan Mall in 2016.
Yerevan Mall is a great place as an entertainment center. Suitable for people of all ages, gender, nationality, and character, the mall will definitely fulfill your day and give you a positive energy.
The first and only Carrefour hypermarket opened its doors in Yerevan Mall on March 11, 2015. It is one of the largest hypermarket chains in the world. Yerevan Mall is also famous for hosting a lot of events. People are able to take part in various and unique events. Those events provide fun and pastime for people of all ages, genders, and people of different preferences and interests.
One of these events is the Black Friday. Most likely, many people have already heard about it. People get the chance to purchase all products at extremely low prices. Generally, Black Friday starts at 10 AM and lasts until 10 PM or 11 PM. Many people every year wait for this event. And since there are too many people during the event, some start getting prepared a few days before the event.
Yerevan Mall also launched its customer loyalty program, Club Card project in 2016. It is the biggest loyalty project in terms of its prizes and the number of cardholders in the retail sphere of Armenia.
Read in more detail in the following article: Yerevan Mall
RIO MALL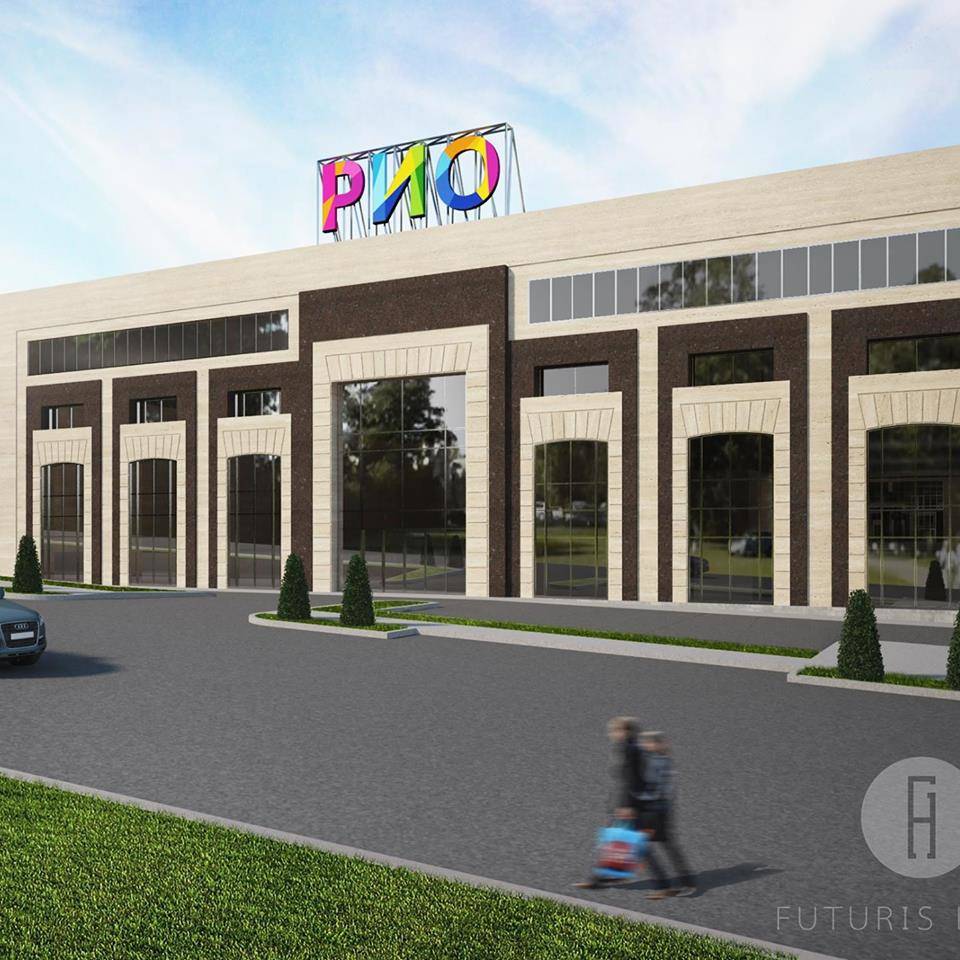 RIO Mall opened its doors in the capital city of Armenia, Yerevan on November 13, 2017. RIO is Russian shopping network and an entertainment center. It is a part of the "Tashir Group", founded in 2005. RIO belongs to an Armenian-Russian businessman, Samvel Karapetyan. 
In RIO Mall, there are branches of banks, currency exchange offices, a sewing workshop. In front of the mall building, there are car parks. For entertainment, there is a children's kart hall and Cinema Star movie theater. In the department of fast food, there is a pizzeria, a restaurant and a café "Tashir pizza".
In the mall, there is also a supermarket, shops of clothes, shoes, perfumes, accessories and electronics. The advantage of the shopping center. It stands right on the crossing of adjacent streets (Saralanj Highway). Also, the fact that it was built in the Arabkir administrative center. There are going to be more than 100 well-known Russian and other foreign brands in the shopping center. 
This new shopping and entertainment center is worth to visit! You can also find there various brands that haven't been represented in Armenia yet.
ROSSIA MALL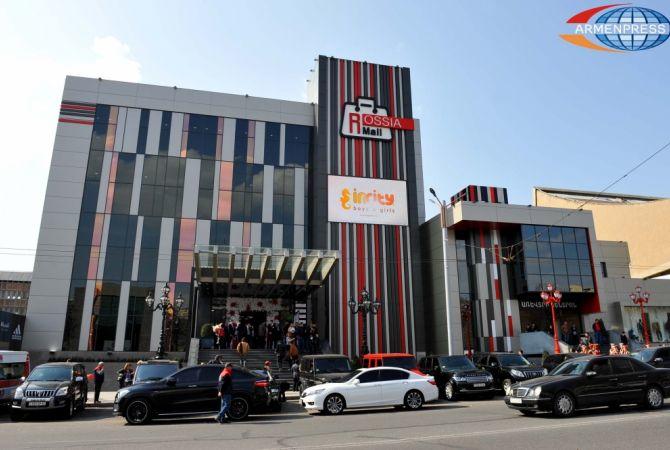 Rossia Mall opened its doors on March 5, 2016. It is an enclosed mall located on Tigran Mets Avenue in Yerevan. It is the 3rd-largest mall built in Yerevan.
The shopping mall was built by the "Sil Concern" LLC, the owner of which is the Armenian businessman Khachatur Sukiasyan. The mall introduces one of the largest jewelry centers in Yerevan. It also owns a number of cafes and restaurants together with food court. There is "Play Space" children's playground as well.
According to the founder of the "Sil Concern" LLC and co-owner of the Rossia Mall Khachatur Sukiasyan, the new shopping and entertainment center is very different with its special design solutions. He notes that the opening of the mall will also contribute to the development of small and medium-sized businesses and tourism as well.
The mall has 7 floors, where you can find boutiques of foreign and local brands such as Adidas, Ramsey, Kit and LC Waikiki. Also, there are fashion boutiques offering shoes made of leather, as well as handmade t-shirts and accessories. There is a beauty salon, a branch of "ArmEconomBank", a drug store, café, and Food Court. In addition, the Food Court gives you the breathtaking view of the Saint Gregory the Illuminator Cathedral.
The 6th floor is all for kids' entertainment! There are many attractions, a big autodrome, kids' café, 9D movie theatre, and a kids' special restaurant for celebrating different events.
source: Rossia Mall homepage 
METRONOME SHOPPING CENTER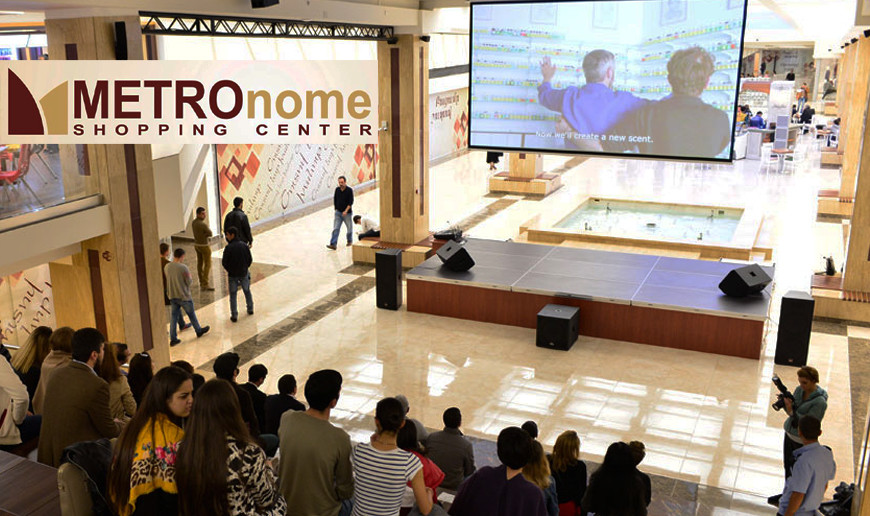 Metronome Shopping Center is yet another great place where you can find many clothing and accessory stores, cafes and fast food restaurants. It is perfect for comfortable shopping and is located in the city center, near the Yeritasardakan underground metro. 
One important thing about the shopping center is the presence of "Sportlandia" sportswear and accessories store chain, which is a franchisee of "Sportmaster" company.
Aside from its own brands, Sportmaster also presents a number of prestigious and world-renowned brands such as Sketchers, Nike, Adidas, Puma, Reebok and more. The company also offers the New Era brand, which is being introduced for the first time in Armenia.
The first "Sportlandia" clothing store, representing sportswear, was opened in 2003. Today the network represents more than 120 stores in Russia and CIS countries. It is simply the perfect option for those who prefer active rest, sports style lovers, comforters and quality assessors. Besides, there is also a personal approach to each visitor.
TASHIR TRADE CENTER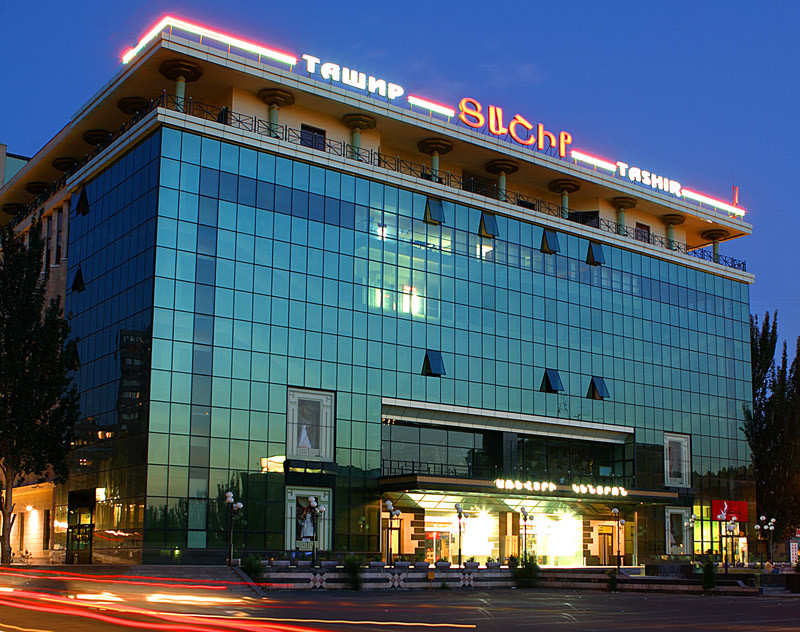 Tashir mall opened its doors on October 1, 2004. Since then, it has become very popular. It includes lots of shops where you can buy high quality things.
On the 1st up to the 4th floor, there are shops for gold jewelry, clothes, shoes, underwear, bedroom accessories, curtains, souvenirs, clocks, make-up stuff, mobile phones and so on. The 5th floor is completely for kids! There you can buy clothes and shoes for kids, different toys, kids' furniture.
Besides all of the things above, Tashir also offers variety of services. This includes cafes, sports hall, bank services, mobile phone recovery centers, expensive jewelry recovery centers, photo services, fashion hall etc.
In addition, there is a car park for 400 cars.
One more thing to add, there is a recently opened Armenian Brands hall on the 4th floor of the mall. There you will find Armenian clothes, shoes and accessories.
---
In this article we introduced you the 6 most popular Armenian shopping malls! Of course there are many more malls we didn't talk about yet, such as Vernissage, Petak and Surmalu, which are quite popular as well! So, if you are planning on visiting Yerevan and are looking forward to some good shopping, you can count on Yerevan malls for a good time.
Yerevan is constantly developing, so there are going to be a lot more shopping centers which will offer awesome shopping and entertainment opportunities for people of any taste. Our website will provide you with the latest news, so stay tuned!