Skiing developed in the 19th century as a sport. It is one of the most popular sports in the world and is a way of moving over snow. It is also an activity that millions of people of all ages enjoy.
The three types of skiing are Alpine, Nordic, and freestyle skiing.
Alpine Skiing
Alpine skiing is the skiing down the hill. The word itself comes from the Alps, the highest mountains in Europe where downhill skiing started.
Alpine skiing is a very popular form of recreation in many countries.
There are thousands of ski resorts all over the world.
Nordic Skiing
Nordic skiing consists of cross-country skiing and ski jumping.
Cross-country skiing is considered as the most popular form. Skiers glide over flat or hilly areas, and also, along forest trails. The skiers move by thrusting their poles into the snow, then they stride forward. Cross-country skiing is a good exercise and improves your overall physical condition.
Freestyling
When skiers perform stunts, unusual or difficult moves, that is the freestyling form. Today the freestyling has three major forms. In ballet, the skiers ski down a slope and make jumps or spins on their way. Mogul skiing is skiing on large bumps as fast as you can.
---
The oldest skis, probably about 4,000 to 5,000 years ago, were found in Sweden and Finland. Some of the first skis were looked like snowshoes. They were made of the bones of large animals.
First, people used skis for transportation. In some countries, skiers delivered the mail in the snowy mountains. People even used them in wars during the Middle Ages.
---
WINTER IN ARMENIA
Before moving on to our main topic, let's see what winter is like here, in Armenia.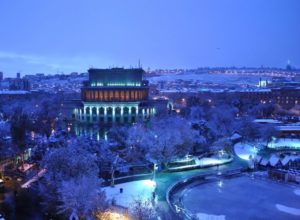 Armenia is famous for its sun, its fresh and delicious fruits, and many tourists choose summer time to visit the country. But Armenia, for sure, is no less charming and attractive in winter when the white, beautiful blanket of snow covers the whole country.
Even though it is typically snowy, the weather is mild, soft and not too cold. Yerevan, the capital, turns into a real snowy miracle, especially before New Year and Christmas.
Winter is especially awesome in the mountainous areas, particularly in ski resorts. They offer great opportunities for extreme sports lovers.
Skiing Armenia
Now that we have general information about skiing, and what winter is like in Armenia, let's find out what the country can offer to those who would like to visit it in winter!
Tsaghkadzor Ski Resort
Tsaghkadzor (the Valley of flowers) .is probably the most popular ski resort in Armenia. In winter, it turns into a valley of skies. People come here for both having a good time and enjoying the Christmas holidays in Armenia.
It was originally built in order to train the Soviet athletes for the Winter Olympics(1988). Tsaghkadzor Ski Resort is a tourist and sports facilities, the location of which is just above the Tsaghkadzor(in Kotayk Province), about 60 km northeast of Yerevan and the Zvartnots International Airport.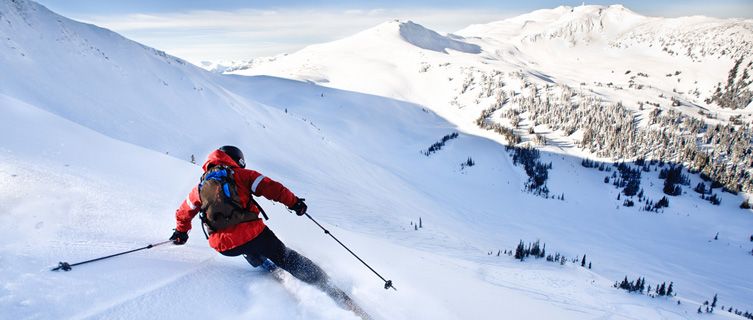 The famous Armenian mountain ski resort lies in the gorgeous Marmarik river valley at an altitude of more than 1,700 meters above sea level.
There are approximately 12 km of ski tracks, some lifts, a large sports complex, several swimming pools with a fifty-meter indoor pool, athletics stadium and many other sports facilities.
The monastery complex of Kecharis (XII-XIII centuries) is nearby.
Winter in Tsakhkadzor is mild. The average temperature in January is -9 °C. Skiing season lasts from mid-November to mid-April. Snow cover reaches 1.4 m.
Tsakhkadzor is an amazing ski resort for almost any level skiers and snowboarders

.

For example, the middle part of the mountain slopes is good for relaxing skiing with a height difference of 230 m. There are several very steep slopes, a ten-meter cornice, and also, sports chute.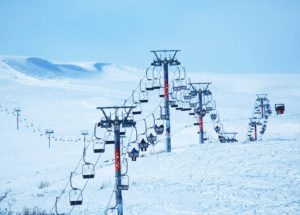 Black tracks with a height difference of 350 m. are located at the top of the mountain.
They are equipped with a chairlift (800 m). This broad track is 3 km long and runs mostly on the plains, where the surface is virgin and stays soft in all weather conditions.
There is over a dozen ski runs armed with the best quality equipment that guarantees active and also safe recreation here. From city till the top of Teghenis mountain, there is a 6km long chairlift ropeway with five stations. With 2819m height, it offers a breathtaking and beautiful view of Mount Ararat and Lake Sevan. From there you can then move across the pass to the mountain ridge nearby and reach the most extreme slopes.
In addition to the chairlifts, the tracks are also equipped with some platters pulls. One ski pass costs about 10$ a day, working hours are 9.00-18.00.
The ski center has a rescue service, at each station there is also a medical center.
There is also a big number of rental sports equipment, offering a wide range of goods at relatively good prices (compared to European resorts).
Other than skiing, here you can find a lot of entertainment like bars, saunas, discos, restaurants, excursions. You can also taste the delicious dishes Armenian cuisine in the restaurants, aroma of coffee, a real cognac, live music, attentive staff will accompany you.
There are diverse tours in Tsaghkadzor which will satisfy even the most demanding tourists.
Besides the active leisure, you can also visit the Kecharis Monastery, Orbeli brothers' house-museum, and a monument in the central square of Tsakhkadzor. It has two marble Falcons with outspread wings. It opened on the eve of 60th anniversary of the Great Patriotic War Victory.
Tsakhkadzor ski resort also offers various ski runs on the mountain slope, which is perfect for beginners, amateur, and advanced skiers.
Jermuk Ski Resort
If you hesitate and think that there will be too many people in Tsaghkadzor, yet you want to have fun and enjoy winter in Armenia anyway, the alternative is Jermuk in the Vayots Dzor region.
There is also a ropeway built in accordance with the international standards. The elevation is from 2100 to 2500 meters above sea level with the length of 2620m. There are also local rentals of snowboards and ski equipment.
There are also cafeterias at the intermediate stations of the ropeway. It is very common to refresh yourself by delicious and healthy food for the upcoming recreational activities there.
The resort surroundings are full of unique historical and architectural monuments. One example is Gndevank (X century), St. Astvatsatsin Monastery (XIII century) and Noravank (XII century). The last one is one of the most popular, remarkable and astonishing monasteries there.
The beauties that nature crafted itself also leave indelible impressions on tourists. Such as the popular waterfalls and geysers of Jermuk.
(material taken from jermukarmenia)
Akhtamar – Sevan Ski Resort
The ski resort Akhtamar – Sevan is located in the Gegharkunik Province.
It is located on the picturesque slopes of Mount Mashtotsner and Bekarner. Winter sports lovers there can experience excellent conditions in accordance with international standards.
The length of the ropeway is 1130 m,  with 4 person chairlifts. It can take you to the mountain from where you will be able to admire the awesome view of Lake Sevan. It can serve 800 people/hour.
There are different cafes and bars on the territory of the ski center, where you can have hot drinks and snacks any time during the day. Skiing season runs from late November to early June.  Italian company "Leitner" produced the ropeway. For skiing and also snowboarding, 2.5 km of slopes are available. One lift transports the guests. The winter sports area is situated between the elevations of 1,900 and 2,249 m.
---
Winter tours in Armenia will definitely give you the chance to enjoy your trip in all possible ways. At the end, you will be left with incredible impressions of Armenia. So don't miss it!
See the video of fast Skiing in Tsaghkadzor below: