---
HENRIKH MKHITARYAN'S CHILDHOOD
Born on January 21, 1989, in Yerevan, Mkhitaryan spent his childhood years in Southeastern France. His father, Hamlet Mkhitaryan, was a respected professional footballer in the homeland. He was one of the most famous attackers of "Ararat" football club in Yerevan in the 1980s.
After Henrikh's birth, he moved to France with his family to play in the team "ASOA Valence." Henrikh Mkhitaryan spent his early childhood in Valence. He wanted to become a footballer, so he began to follow his father's example. During his childhood, he always watched his father's matches and wanted to see how he was training.
His mother, Marina, tells that when Hamlet was on his way to training, the little Henrikh always wanted to go with him. When Hamlet did not take him with him, Henrikh started crying. So, in the end, they went together.
Unfortunately, at the age of 33, Hamlet Mkhitaryan passed away because of a brain tumor. The Mkhitarian family returned to Yerevan in 1995.
"You can't imagine how much I would like him to see me play. If my father was beside me, many things would have been easier, not even talking about professional advice. But he left us very early. Consciously, I did not take any skills from him because when he died, I was only eight years old. But all the people who have seen my father say that on the playground we run and kick the ball same way. Hence, many things that I own now, I have inherited from my father."
— Henrikh Mkhitaryan
After returning to Yerevan, Henrikh's grandmother, for the first time ever, took him to a football school.
By that time, Henrikh already knew what career he was dreaming about. "I always wanted to become a footballer. I'm thankful to my parents because they helped me make my dream come true."
In 1995, Mkhitaryan joined "FC Pyunik" in Yerevan, becoming one of the most talented footballers in Armenia.
He graduated from the Armenian State Institute of Physical Culture. He also studied economics at the Yerevan branch of the St. Petersburg Institute.
In 2003, Mkhitaryan at the age of 14 had trials with São Paulo in Brazil. After a year he returned to Pyunik.
Currently, Mkhitaryan's mother, Marina Tashchyan, is the head of the department of national teams. His older sister, Monica Mkhitaryan, works at the UEFA headquarters.
Interesting fact: Mkhitaryan considers Zinedine Zidane his football idol.
THE RISE OF THE TALENTED FOOTBALLER
PYUNIK
In 1995, Mkhitaryan became a member of the youth team of FC Pyunik. He also received his first salary at the age of fifteen. Later, he moved to Pyunik's adult team as a professional footballer. His debut was in 2006 at the age of 17.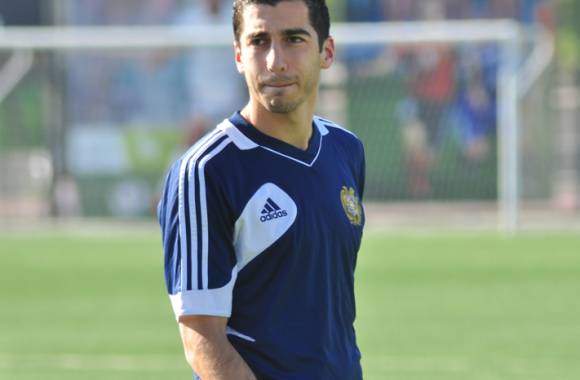 Last time he played for the team in the 2009 season. He scored 11 goals in 10 league games during the season. In the Pyunik professional team, during four seasons, they won the Armenian Premier League (2006, 2007, 2008, and 2009).
In 2007 and 2009, the team won the Super Cup of Armenia twice. Once they won the Cup of Armenia in 2009. In total, Mkhitaryan took part in 70 games of the team and scored 30 goals. In 89 games with the national team, he made 35 goals.
The head coach of Pyunik Vardan Minasyan said that he would like to see his best player play in stronger teams. Minasyan also affirmed that the young Henrikh had gone through a very good path to becoming a legend. Minasyan said about Henrikh: "He can win games on his own. He catches the right moment and kicks the ball with pleasure."
After three years in Pyunik's professional team, he left Armenia and moved to Ukraine's Premier League, Donetsk's "Metalurg".
METALURG DONETSK
Mkhitaryan started playing in Donetsk Metalurg Club. In the Europa League, he scored one goal on July 16, 2009. The team defeated the Belarus Primera League side FC Partizan Minsk with 3-0.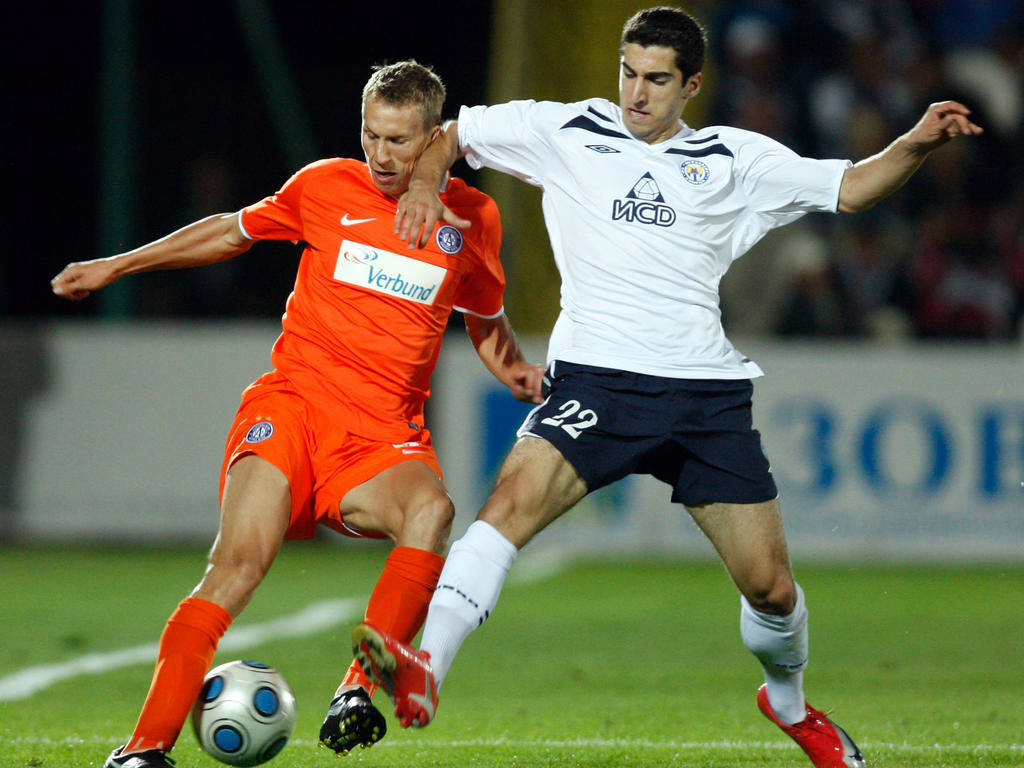 In total, during the first season, he scored 14 goals and then became the youngest captain in the history of the team. He was 21 at that time.
In this season Henrikh scored his first in the 89th-minute penalty and won over Obolon Kyiv with 3-0 score. Mkhitaryan played his last game on August 30, 2010, defeating Dnipro with the score 2-1.
During the times in Metalurg, Henrikh had 37 league appearances and scored 12 goals. Totally, he played 46 games in the team and scored 17 goals.
On August 30, Mkhitaryan signed a $ 7.5 million deal with Shakhtar Donetsk, the dominant champion in the Primera League.
SHAKHTAR DONETSK
2010-2011
His debut in Shakhtar Donetsk took place on September 10, 2010, with Obolon Kiev. Eduardo replaced him in the 62nd minute. After all, the Shakhtar won the match with a 1-0 score. This, however, was an away league.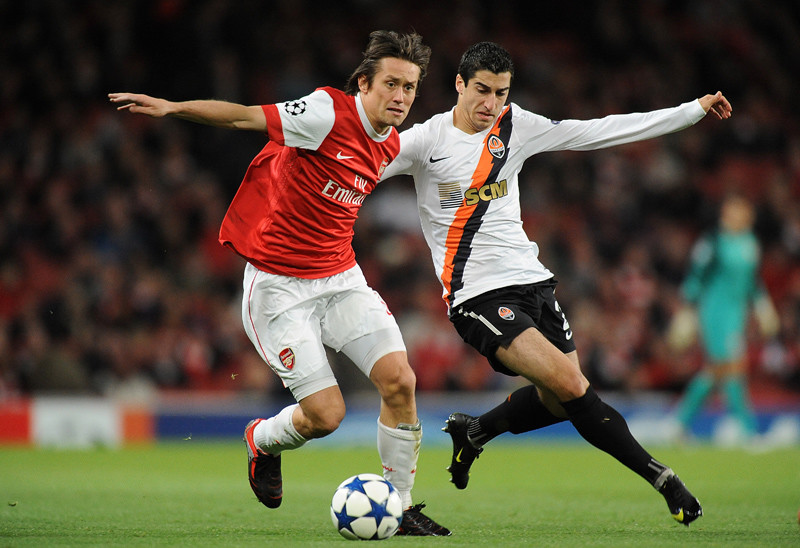 Mkhitaryan's home debut was much more successful. On September 19, Shakhtar managed to defeat Tavriya Simferopol by the score of 4-1. He made his first goal as a Shakhtar player in that match.
His first season with Shakhtar was very successful for the team since they won the treble (Premier League, Ukrainian Cup, and the Super Cup).
2011-2012
During this season Shakhtar won the Premier League and the Ukrainian Cup. In an online poll on the official website of Shakhtar Donetsk, Mkhitaryan with 38% of total votes was chosen as the best player of Shakhtar in 2011–2012 Premier League season.
In 37 matches, Henrikh scored 11 goals, including 10 goals in 26 league matches.
2012-2013
In the first match of this season, Mkhitaryan scored twice. After only six matches in the season, he made 10 goals. On September 19, 2012, during the Champions League Mkhitaryan scored twice and the game ended with a 2-0 score. That way Shakhtar won over Danish champions Nordsjælland. This was the first time he had ever scored a goal in the Champions League. He was named Man of the Match.
This season got over with 25 league goals overall, setting a Ukrainian Premier League record for most goals in a single season. Mkhitaryan was praised for his techniques and dedication.
BORUSSIA DORTMUND
2013-2014
In summer 2013, Henrikh Mkhitaryan moved from Shakhtar to Borussia Dortmund FC.
For his transfer, Borussia Dortmund paid €27.5 million to the Ukrainian club. Consequently, Henrikh became the most expensive achievement in the Dortmund club's history.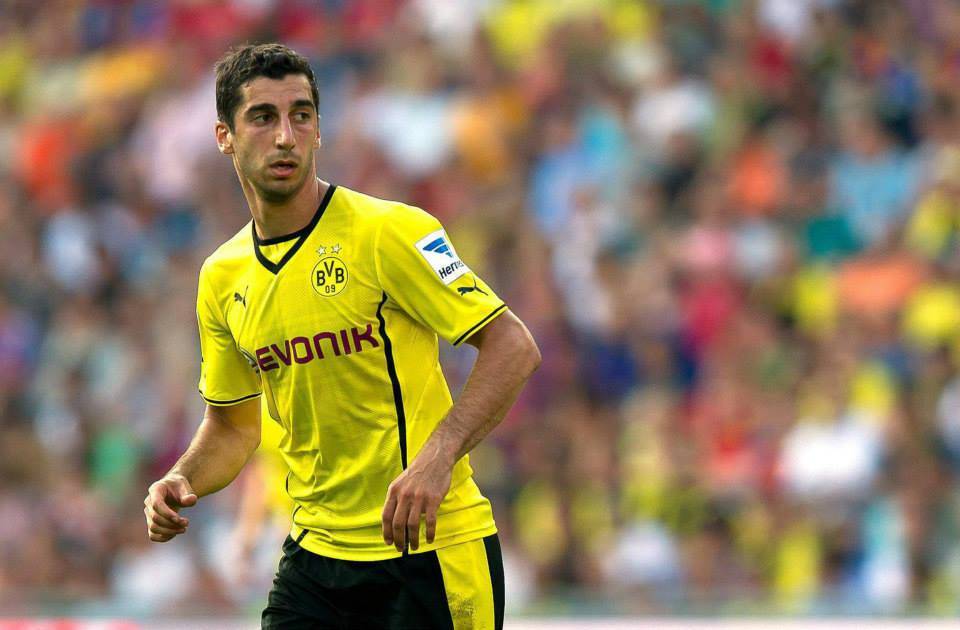 The news of Henrikh's departure was a major controversy at that time. Many media outlets wrote that Liverpool wanted to buy Mkhitaryan, but later it was reported that the deal would not take place because of a disagreement with a third party.
Moving from Shakhtar to Borussia was a very complex process since the Henrikh's transfer rights belonged to three sides: Shakhtar, Pyunik and Oleg Mkrtchyan, the owner of Donetsk's Metalurg.
Besides, Henrikh didn't want to return to Shakhtar, while the Ukrainian club didn't have any intentions to let go of his leader player. However, after long and mixed negotiations, Borussia managed to come up with a general agreement with Shakhtar.
---
Why Borussia Dortmund? 
There are many reasons. The first reason was to move to a European top club, which in its turn opened new perspectives and opportunities for Mkhitaryan. Borussia is also considered to be one of Bundesliga's leading clubs.
Besides all these, Mkhitaryan would be able to show his best qualities, since Bundesliga improves its performance over other leagues every year.
---
His first Champions League goal for Dortmund came in a 2–1 away win against Arsenal.
This season for Mkhitaryan was not so good He scored only 9 goals and took the 30th place in the ranking of the 100 best players in five leading European championships with an average score of 7.58. Besides, he felt a great amount of pressure on him, as well as a great sense of responsibility.
The period was the worst for Borussia. Mkhitaryan was injured during the Hertha – Borussia match in the 15th round of the German championship and didn't play for 6 weeks.
"In the last season, both I and the entire team did not play well. Everyone was doing their best, but as a result, we could not win. After the first half of the season, we were at the bottom of the tournament table, which was terrible for us. Then, in the second part of the season, we started playing better, the success was a bit on our side, and eventually, we managed to win the Europa League."
— Henrikh Mkhitaryan
After that, Jürgen Klopp, the manager of Borussia Dortmund at that time, left Borussia and moved to "Liverpool". Henrikh Mkhitaryan, along with Klopp and his team, won the Bundesliga vice-champion title. They became the finalists of the German Cup. In 2014, they won the German Super Cup.
In 2015, Thomas Tuchel signed a three-year contract with Borussia Dortmund. He started to train the team and the team, in a short time, showed his real face. They were in the top rankings showing their best game.
2014–2015
Mkhitaryan along with Dortmund won the first trophy, 2014 DFL-Supercup, and scored his first goal during the match with Bayern Munich. The second goal was against rivals Schalke 04 on 28 February (2015).
2015–2016
In this season, he took part in 31 games, scored 11 goals and 16 assists. In total, Mkhitaryan has taken part in 140 matches in Borussia Dortmund and has scored 41 goals.
He was voted the Bundesliga Best Player of the Season as well.
MANCHESTER UNITED
2016–2017
On July 6, Manchester United officially announced the transfer of Borussia Dortmund's former midfielder Henrikh Mkhitaryan. His transfer to the team cost 42 million euros. The 27-year-old player became the most expensive player in the post-Soviet.
Previously, this record belonged to the Ukrainian attacker Andrei Shevchenko. In 2006, Andrei moved from Italian "Milan" to "Chelsea" for 40 million euros.
In an interview with MUTV, Henrikh said that Manchester United was one of the greatest clubs in the world, so he could not reject the offer. His shirt number in Manchester United is 22.
Mkhitaryan's debut in the club was in a pre-season match against Wigan Athletic on 16 July 2016. He spent 45 minutes playing. After the match with Wigan, Mkhitaryan and his club left for China, where Manchester held a training session.
On July 22, the Manchester United – Borussia Dortmund match took place in Shanghai, where Mkhitaryan scored his first goal for the club. The game ended with a 4 – 1 victory over Borussia.
Mkhitaryan became the first Armenian to play in the Premier League in a 3–1 away victory against Bournemouth.
Mkhitaryan scored his first Premier League goal in a 1–0 victory over Tottenham Hotspur. He, however, left the game in the 2nd half after getting an ankle injury. After two matches, after recovery, he made his third goal against Sunderland. The "scorpion kick" according to Henrikh, was the best goal he had ever scored.
2017–2018
In the first three matches of the 2017–18 Premier League season, Mkhitaryan assisted a record-equalling five goals.
(reference: Wikipedia)
INTERESTING FACTS ABOUT HENRIKH MKHITARYAN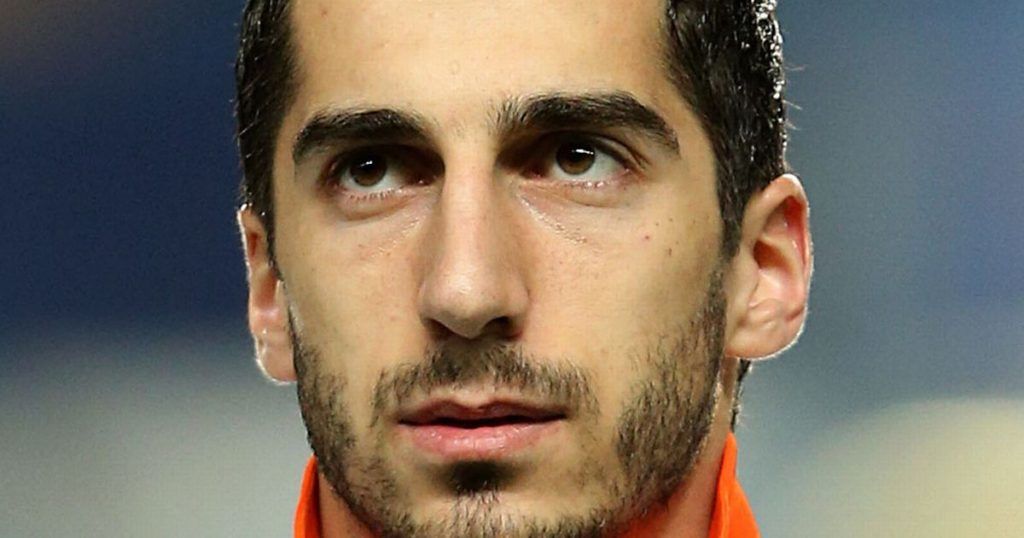 Currently, Mkhitaryan is considered to be the best player in his country.
He was named the best player in the country in 2009, 2011, 2012, 2013 and 2014. Also, the best player in the CIS in 2012. He is the first Armenian to win this title since the collapse of the USSR.
He is the best bombardier of the Armenian team.
Mkhitaryan is a polyglot. He knows 7 languages: Armenian, Russian, French, English, Portuguese, Italian and German.
The previous fact makes Mkhitaryan the only football player in the world to know that many languages.
Thomas Tuchel made him a better player. Mkhitaryan said,

"I was doubting him. I was not sure that after a bad season he could make me a high-class player, but he did it."  

"300 Spartans" is his favorite movie.
During his Shakhtar, days Mkhitaryan did not live in his own apartment. Instead, he lived at the club's training ground.

"Since I started to become somewhat famous, I preferred to concentrate on football. My team-mates, however, teased me sometimes. They gave me the nickname "President of the training ground." "

His fans and teammates usually call him Micki or MagicTaryan. Russians refer to him as "The best Armenian is Henrikh Mkhitarian."
Mkhitaryan revealed in an interview that Jürgen Klopp gave him the nickname "Micki" when he moved to Borussia since his surname was too long to pronounce.
His account on Instagram is named micki_taryan.
His Armenian fans often call him "Heno", short for "Henrikh".
Shakhtar's Donbass Arena had a tradition of playing music every time the home players scored a goal. The track corresponded to the nationality of a scorer. Whenever Mkhitaryan scored a goal, "Sabre Dance" by Armenian composer Aram Khachaturian was played.
If he didn't become a football player he'd become a sprinter.
He can play both on the right and on the left.
Quotes by Henrikh Mkhitaryan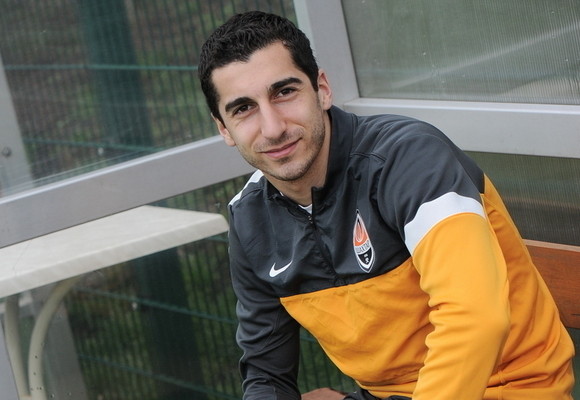 "I think the most important thing is to play to help the team. To win the games is the main thing for me."
♦◊♦
"Sometimes there are difficult times in the career of a footballer, but one should never give up. Sometimes you may have the thought that you need to stop. It is a natural human feeling, but it should not force you to stop what you have started. You need to find the strength to get rid of the bad thoughts."
♦◊♦
"I don't ever give up when there are obstacles in my way. I just continue going until I reach my career objectives."
♦◊♦
"My secret is very simple. Throughout my life, I have been surrounded by amazing people who have always helped me, supported me during hard times, and they never let me become arrogant because of the success. That is why I can be grateful to God."
♦◊♦
"I definitely did not join Manchester United for the salary. I went there for football reasons, for the history of the club, the league, the fans, and the coach because he is one of the best in the world."
♦◊♦
"The year after my father died, I started my football trainings. He was the drive for me, he was my idol. 'I have to run just like him. I have to shoot the ball just like him'. That's what I said to myself."