An extreme sport refers to certain activities. These activities often involve danger speed and height. People in extreme sports play not only against each other but also against different barriers like weather, conditions, etc. Extreme sports become popular in last 12 years.  Thus as an interesting blood-raising and thrilling activity Zip Lining also become popular. It is a cable made of stainless steel that is mounted on a slope. You can find a great Zip-Line activity in Yell Extreme Park, Yenokavan, Armenia. In Armenia, this extreme sport will satisfy your need for adventure. So you can completely forget about your everyday problems.
Yenokavan

Yell Extreme Park is situated in Yenokavan village. It is in Tavush region, South to Yerevan, Capital of Armenia. After two hours drive from Yerevan(142 km) you can find yourself in Yenokavan and if you go there from Tbilisi (158 km), Capital of Georgia then you will need 30 minutes more.
Until 1935 it was known as Krdevan. Yenoqavan is a small village and summer resort in the Tavush Province and is a few kilometers north of the regional capital of Ijevan. In 1935 Krdevan was renamed to Yenokavan in the honor of the founder of the 1st Communist party cell in the region.
Actually, the population of the community consists of 612 people. Mostly, people of Yenokavan are engaged in cattle and agriculture. The others work in Apaga Resort as it provides approximately 60 workplaces. This beautiful resort is situated in Yenokavan and Yell Extreme Park. 
During Armenian holidays there are a lot of people in this village. Tourism had a big growth here in Yell Extreme Park and so social conditions of the villagers are improved too.
The territory of Yenokavan is mountainous and rocky. There is a canyon behind the village. It is lush with forest, river and has caves with interesting carvings. The hillsides Yenokavan are covered with a green carpet of Alpine meadows. This provides ideal conditions for the development of eco and adventure tourism in Tavush. People sometimes call it a ''little Armenian Switzerland''. 
Yell Extreme Park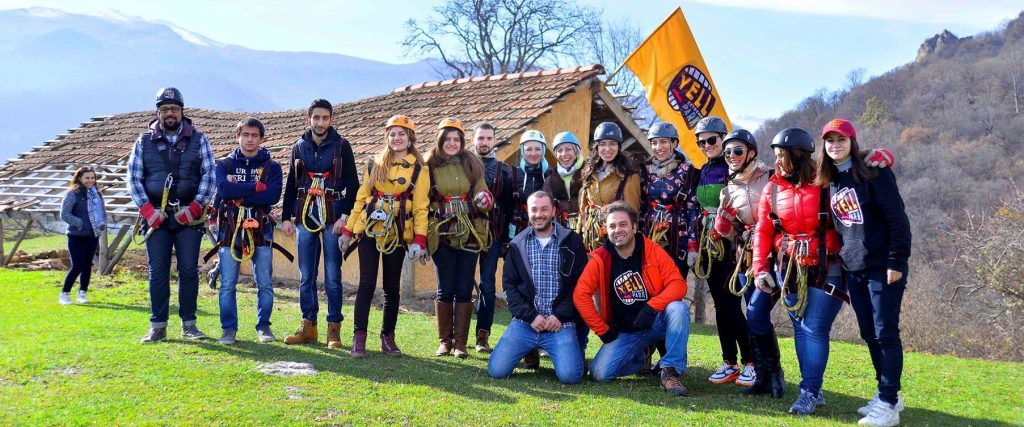 Yell Extreme Park is the first extreme amusement and adventure park in Armenia that gives an opportunity to do extreme sports without being a professional. The first flight by the zip-line was done in 2015 and after a year in 2016, there was a huge quantity of people you took part in it. Now there are many other activities besides zip-line, now people can go to mountain biking, horseback riding, etc. So in Yell Extreme Park, you are free to take part in various activities.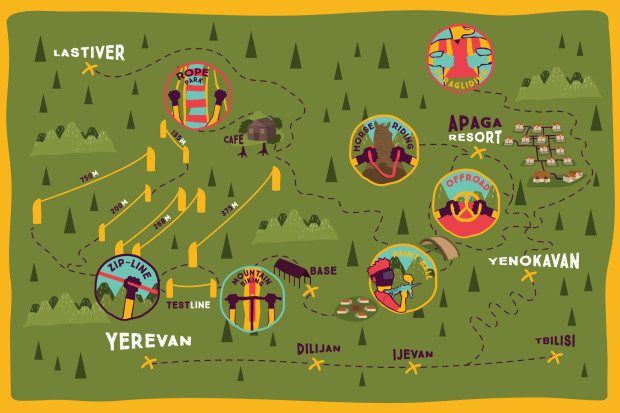 Recently various activities were added in Yell Extreme Park. In 2016 people opened the Rope Park.
Yell is a place; one can do a rope climbing exercises, obstacle courses, ride Yell track and do much more. Here you will need no climbing techniques or special physical fitness experience. 
All the kinds of adventure holidays are coordinated by the Yell's professional team. They have regular training and exchange of experience.
All of this is done due to the Mountain Tourism and Rock-Climbing Federation RA and Ministry of Emergency Situations of the RA. Yell Extreme Park's team collaborates with their partners from France and Austria regarding technological part.
 The longest line of Yell Extreme Park is 750m. It has a height of 200-300m and the speed of 5-7m/s. Now the team designs a new Zip-line. The length of the new zip-line will be 2680 m. Thus the height is going to be approximately 250 m. There will be 4 parallel Zip-lines. If this activity will be opened then Yell Extreme Park's team will set a new record of Guinness Records book. They want to hear the loudest Yell from the Yell Park. 
Yell Extreme Park's Activities
Adventure lovers can have a wonderful time in "Yell Extreme Park". You can choose to choose any of the following types of extreme sport and adventure holidays;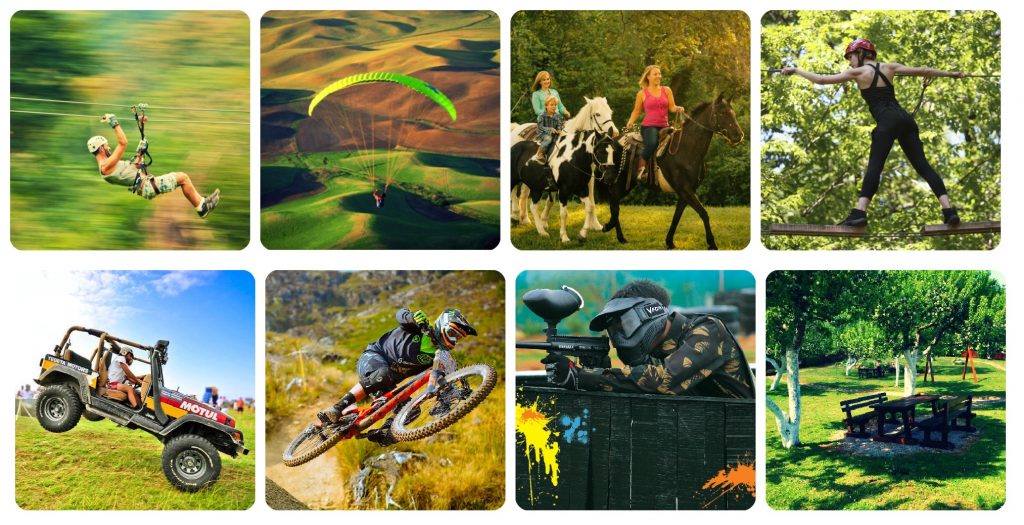 Zip Line

Paragliding

Rope Park

Off-road

Mountain Biking

Paintball

Horseback Riding

Intellectual and logic games (Rest Area/ Board Games)
Zipline
The main activity in Yell Extreme Park is the s Zip-Line. Zip-line enables the user to move by gravity to travel from one place to another. So you will be approximately 200-300 m above the ground. This zip line has 5 different lines: 135m, 268m, 200m, 375m, and 750m. The average duration of the flight is 1.5h. It includes 15minutes training concerning to safety rules, 30 sec-2 minutes for the zip line and 5-20min to move from one line to another. The price for it on weekdays is 11.000 AMD per person. On weekends and holidays, it is 15.000 AMD. But if you go to Yell Extreme Park with a group that has 4 and more members then you can get the tickets with 13.000 AMD.
Paragliding
Paragliding is the flight from the height. It usually lasts 30 minutes depending on weather conditions. It is the recreational and competitive adventure sport. Thus you fly by paragliders. During paragliding, Flights are carried out with the specialist. The pilot sits in a harness. The price of paragliding consists of 48.000 AMD per person. In this cost video shooting and transportation are included.
Horseback Riding
Yell also have horseback riding tours that you can have in the nearest fields and forests. You can ride a horse 20 min/1.5h/3h every day. The cost for horse riding is 4.000AMD, 12.000AMD and 16.000AMD per person. The tour can be continued up to 7 days. Sometimes when the trip is short the visitors spend nights in tents.
Rope Park
The total area of the park is 3000m2. In the Rope Park, one can do a variety of sports like rope obstacle courses, zip-lines, and climbing exercises. Here, in Yell Extreme Park people do not follow a specific educational concept, they just do the recreational activity. So you can be calm, as no need for climbing techniques or physical fitness experience. There are diverse trails on trees. You should keep your balance on the rope and pass the bridge.  The short zip-lines will help you to overcome the barriers. The price for each person is 5.000 AMD.
Off-road
Off-road is a funny activity. It includes driving a vehicle off-road. Thus you should ride on unsurfaced roads to overcome various obstacles, gravel road surfaces, bumpy roads and granite sets. You must certainly try to feel the joy. And the price for this activity is 15.000 AMD for 15 min driving, and 25.000 AMD for 30 min driving.
Mountain Biking
Obviously, mountain biking is not an easy kind of sport. It includes riding bicycles off-road. Though it is important to realize that in Yell Extreme Park there are specific mountain bikes meant for overcoming rough terrain. These bikes have similarity with ordinary bikes but they are particularly designed to enhance durability on mountain trails. Bike rent cost is 2500 AMD for up to 2 hours and if you want to ride a bit more, up to 12 hours, then should pay 7000 AMD.
Paintball
Paintball is a modern, adrenalin sport. It is a team game during which group members shoot each other with paintballs. For this game, participants wear special uniforms designed for paintball. All things considered, this sport requires strength, speed, and a good physical condition. During this game, you will need good tactical thinking in order to win the game. Thus you will experience both joy and euphoria from victory and disappointment when you lose the game. The cost for this interesting game is 13.000 AMD for 300 balls.
Rest area
The rest area is a place where you can rest eat something, play games like Chess, Monopoly, Risk, Uno, Settlers of Catan, Dungeons & Dragons, Go and much more.  So this is a good area if you tried Yell Extreme park's activities and you are searching a place to sit under the open air, to think, to sleep, to drink, to eat and to enjoy your time.

The Purpose of the Founder
The founder did everything to help people to enjoy every single moment they live. It is a good activity for all especially for those who are searching for adventures and adrenaline.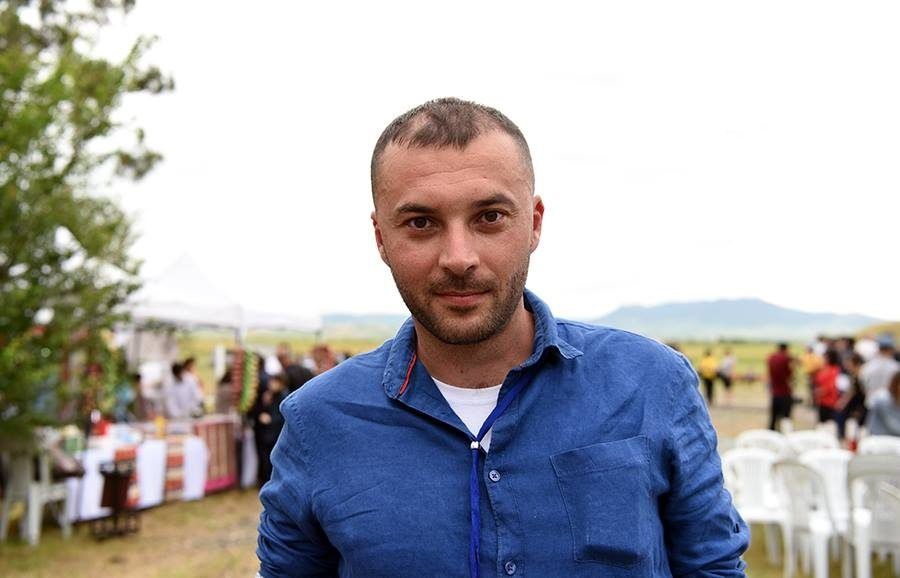 With this zip line, the founder wants to discover new emotions and to change the world of adventure.
He wants you to feel the adrenaline and to overcome all the fears that you may have.  Many years ago Zip lines were mainly used as a means of transportation.
But recently it became a popular activity and an interesting adventure sport. This line allows the person to move from one place to the other.
The founder's purpose is to develop extreme tourism and thus to become a great center of extreme tourism in the region. In this case, there will be new jobs in the border areas. Yell Extreme Park presents opportunities of the unique extreme zone. This place will activate public life and promote a healthy lifestyle.
Projects in Progress
The founder of Yell Extreme Park, Tigran Chibukhchian plans to launch the world's longest zip-line with the length of 2.7 km. In fact, the flight's duration will be maximum 3 minutes and the speed of 120 km/h. So this will be 135 meters (443 feet) longer than the longest existing zip line in Mexico's Copper Canyon.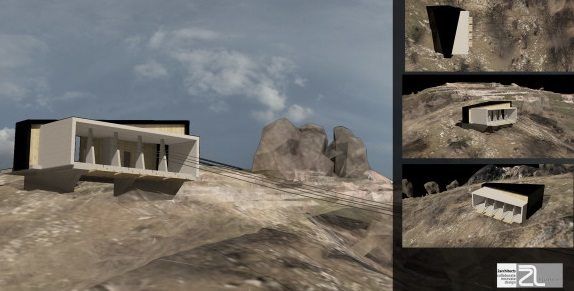 Thus the longest zip line in Armenia will have a super ripper and will allow flying head first down and so you will be safe.
The buckles with adjustable leg and shoulder straps will keep the people locked in. The cost for the Longest Zip-line is $60. But if you get your ticket in advance via Indiegogo you will a get discount and will give one price for 2 tickets.
The Yell's team started a crowd funding campaign on Indiegogo with the aim to construct the world's longest zip-line in Armenia.  Any of us can really help them to reach their goal.
The team has many great ideas that are worth realizing. But for that, they need serious investments. The team will be glad to work with new partners and they are open to any kind of cooperation. So if you share the same ideas and want to be a partner do not waste your time to connect with Yell Extreme Park's team.