Sirusho's Instagram – https://www.instagram.com/sirushoofficial/?hl=en
Facebook Page – https://www.facebook.com/sirushomusic
Sirusho's Jewelry Brand- https://pregomesh.com/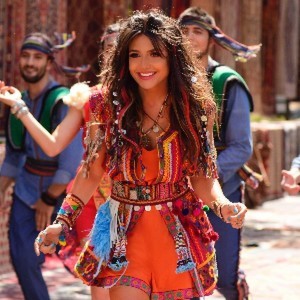 Siranush Harutunyan, also known as Sirusho in the professional field, is an outstanding Armenian pop singer. Her musical style is a mixture of Armenian folk features and modern world music. She has reached international recognition and now represents Armenia to the world with her unique voice.
SIRUSHO'S BIOGRAPHY
Sirusho was born on January 7, 1987, in Yerevan, Armenia. She grew up in a family of talented artists. Sirusho's father, Hrachya Harutyunyan is an actor and director.  Her mother, Syuzan Margaryan is a famous Armenian singer who was at the peak of her fame in the 1990s.
Sirusho's career started in her early childhood. She began singing when she was only 10 months old. At at the age of 2, she could already sing full songs. "Lusabats," an old Armenian folk song written by Komitas, is one of the songs which Sirusho used to perform in her childhood. At the age of 7, she already started writing her own songs both in Armenian and in English. She had her first concert when she was only eight years old. A year later she took part in the Contest of Young Talents and won her first award for her own composition. At the age of 13, Sirusho made another significant step towards her career and released her first studio album.
Once, during her interview, Sirusho said, "I have never been one of those children who dreamed of becoming a singer. I was a little kid and people would ask me to sing at events. Every time after I sang, I would see the amazed looks on their faces, and I couldn't figure out the reason. I mean, I thought I wasn't doing a hard thing, I was just singing the way I felt the music."
SHERAM and HIMA
Sirusho's next big step in the music industry was folk music. She was working on folk songs by Gusan Sheram and later on published an album titled Sheram. "Shorora" the lead single from the album became a national heat as well as the album itself. Receiving the Best Female Artist of the Year award, Sirusho became one of the youngest performers to be awarded.
In her acceptance speech she mentioned, "I have worked and toured a lot this year, and even in a few hours after this event, I'll be flying to the U.S. for concerts, and I want to thank you all for giving me wings for all the future "flights" of my life."
Her next single was "Heranum em" that she wrote herself. It became one of her biggest and the most successful hits.
In 2006 both the Armenian music industry lost one of its best artists, Varduhi Vardanyan. It was also a big loss for Sirusho since they were very close friends. After Varduhi's death, Sirusho composed her song titled "Mez Vochinch Chi Bazhani" ("Nothing Will Part Us") and dedicated it to her. As Sirusho's other songs, this one also became very popular and received a high ranking.
In 2007 Sirusho included the song "Nothing Will Part Us" in her new album titled "Hima" which also included a great single with Sofi Mkheyan. This time Sirusho mixed all her preferences in one album. R&B with duduk, zourna, dhol and other folk instruments made the album breathtaking and provided it with Armenian spirit.
In 2008 Sirusho once more received an award of The Best Female Artist of the Year at the Armenian Music Awards.
EUROVISION SONG CONTEST 2008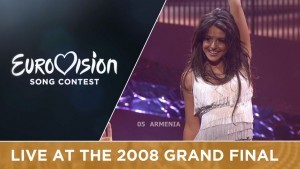 On April 1, 2009, Sirusho released her first song in Greek. It was called "Erotas, Ksafnikos"  (Sudden Love). She performed the song on the stage of Tashir Armenian Awards Ceremony in 2009.
SIRUSHO'S PERSONAL LIFE
Some major changes occurred in Sirusho's personal life in 2009. She married Levon Kocharyan who is the son of the former Armenian president Robert Kocharyan.
PREGOMESH
Sirusho was inspired with one of Komitas's best songs "Lorva Gutanerg" and decided to turn it into a new single of her own naming it "PreGomesh". Moreover, the song was highly appreciated among Armenians as it included the traditional folk features. However, she composed it in a modern way.
PREGOMESH JEWELRY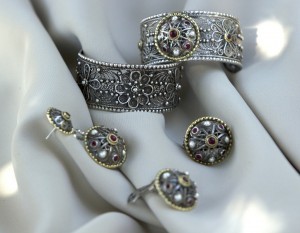 PreGomesh is also the name of Sirusho's handmade silver jewelry brand. The brand creates an old-fashioned and high-quality jewelry both for men and women. It includes belts, bracelets, earrings, diadems, necklaces, and rings. Armenian old patterns included in the designs make Sirusho's jewelry unique and exclusive.
You can find her jewelry brand in Arev Souvenirs in Armenia, Dalma Garden Mall and Vostan by Tsirani.
Till today Sirusho is considered Armenia's "national treasure." She Continues her successful career and represents the Armenian rich culture with all its unique aspects.
Recently, she released a new song named "Huh-hah" which entirely represents Armenian culture and passes the strong spirit of Armenian nation to the audience.
Another hit released by Sirusho is the single "Vuy Aman." She collaborated with Sebu, an Armenian-American singer, and created an amazing dual-language love song.