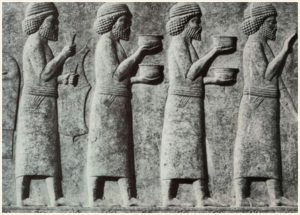 Armenian New Year is one of the most important holidays not only for Armenian but also for all Christians over the world and also for other major religions.
In ancient times New Year was celebrated on the 1st of Nisan, March 22, the day of Adam's creation. That time New Year was celebrated on the same day for all the nations. After the destruction of the Tower of Babel and separation of languages, people marked New Year on different days.
---
History of Armenian New Year
During its long history, Armenians have had three new years called Kaghand, Navasard, New Year (Amanor).
The word "kaghand" comes from the Latin word "calendae" which in Armenian means the first day of the year. All provinces had great Kaghand celebrations, festive rites people performed in the temples, which were accompanied by sacrifices to the gods.
Then Armenians started celebrating the new year on Navasard 1, the day when Hayk defeated Titan Bel. According to the tradition Armenian patriarch, Hayk defeated and killed Bel in Dzor province on August 11.
During the 18th century, January 1st was accepted as a beginning of the New Year. But in some regions of Armenia: Syunik, Artsakh and Utik people celebrate New Year on Navasard.
New Year is one of the most favorite events for Armenians. Though there are many changes in celebration ways compared with ancient times, Armenians have remained unique in their customs.
One month before New Year you can see ornaments in the streets, artificial snowflakes attached on windows, shining walls and Christmas trees in shops.
Armenians like to be prepared for New Year 1 month in prior (there are housewives who buy food and decorations even from summer). Everyone makes effort to have the best-looking table around his/her relatives, neighbors. This is a kind of the tradition – to have the table full of good and tasty food.
When does Armenian New Year Start?
We, Armenians, use to save money from the beginning of the year for celebrating New Year. People even do more than they can afford since they believe that "You'll spend the year just the way you've welcomed it". As Armenians are very hospitable they keep their tables as "fresh" as possible for welcoming the guests.
In houses people decorate Christmas Trees, hang lights from windows, use balloons and when the 00:00 comes you can listen the sound of fireworks and children's happy voices.
For New Year, TV channels show programs, that people like to watch before the New Year starts and after it.
The festive mood continues whole day long. Till morning people celebrate with a great luster. They visit each other not only on the first day but also til 13 January (passed New Year).
Armenian New Year Table
As you understood Armenians mostly pay attention to the New Year table. And it's quite interesting what dishes and decorations they use for making it look "rich".
There are some dishes that are main parts of almost every Armenian New Year table.
Pork Leg (Khozi Bud)
One of the most important Armenian New Year table "accessories" is the pork leg. It's the most favorite dish that housewives like to cook. Why is it the most favorite? Because it takes a long time to get ready and if you don't like it it will be boring for you to cook. Even some housewives don't sleep a whole night to "take care" of this important part of the table.
---
Turkey
Sometimes Armenians put Turkey instead of Khozi Bud and it can be considered second main dish of the New Year table.
---
Dolma
Dolma is a very important dish for New Year table, especially in villages. Mothers and grandmothers start cooking this dish hours ago before the New Year.
---
Salads
Various salads are on Armenian traditional tables: Mayraqaghaqayin, Nran aparanjan, grabsArevatsaghik and many other home-made salads grab appetite.
Desserts
On the table, you can see pastry, fruits, various nuts ( pistachio, hazelnuts, almonds, walnuts, etc…) and the sweet sudjukh. Dried sweet snacks from all kinds of fruits are also a must-have for the table, which housewives make with their own hands even months before the New Year.
No one leaves Armenian house being hungry because they should try every dish housewives offer. And if they deny it will be an offence for them.
Once you visit Armenia on the New Year its celebration way will attract you and you will want to visit every year.
---
Armenian "New Year" Cities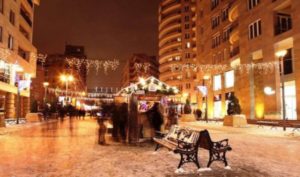 Armenia isn't only unique with its dishes on New Year, but also with its shining cities and villages. New Year mood is spread around the whole country.
And so, if you are planning to spend your New Year in Armenia here are some of the best places you can visit and enjoy.
---
Tsaghkadzor or "Valley of Flowers"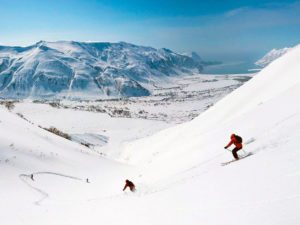 Your New Year will be memorable if you spend in Tsaghkadzor. Its resorts arrange festivals and celebrate the New Year in a great way.
You can also go for skiing if you are fond of active holidays.
---
Yerevan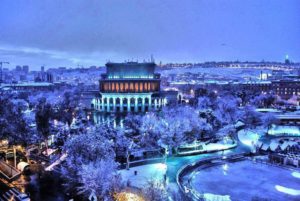 In the center of Yerevan also you can spend a good time with your family and friends. Hospitable hotels and restaurants will welcome you.
---
Historical places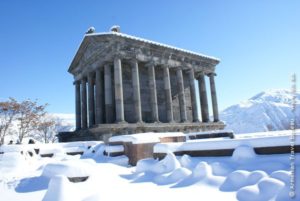 During New Year's holidays, you can visit many historical places ( Garni, Geghard, Tatev, etc…) and discover new beautiful destinations on earth.