Sevan Startup Summit is a non-formal startup event in the region and the first of its kind not only in Armenia but also in the world. It holds on every year since 2016 at Sevan lake's shore. Participants stay at the lake for 7 days and share mode of life. During the summit, teams have an opportunity to meet each other and different entrepreneurs, specialists, and speakers during the lectures, skillful programmers during the campathon, and also invited investors both from Armenia and abroad. This event is a new format of a business. Sevan Startup Summit aims to give the startups an opportunity to improve and make their ideas come true. Creating an interesting and international level event SSS aims to attract investments to Armenia.
Sevan Startup Summit 2016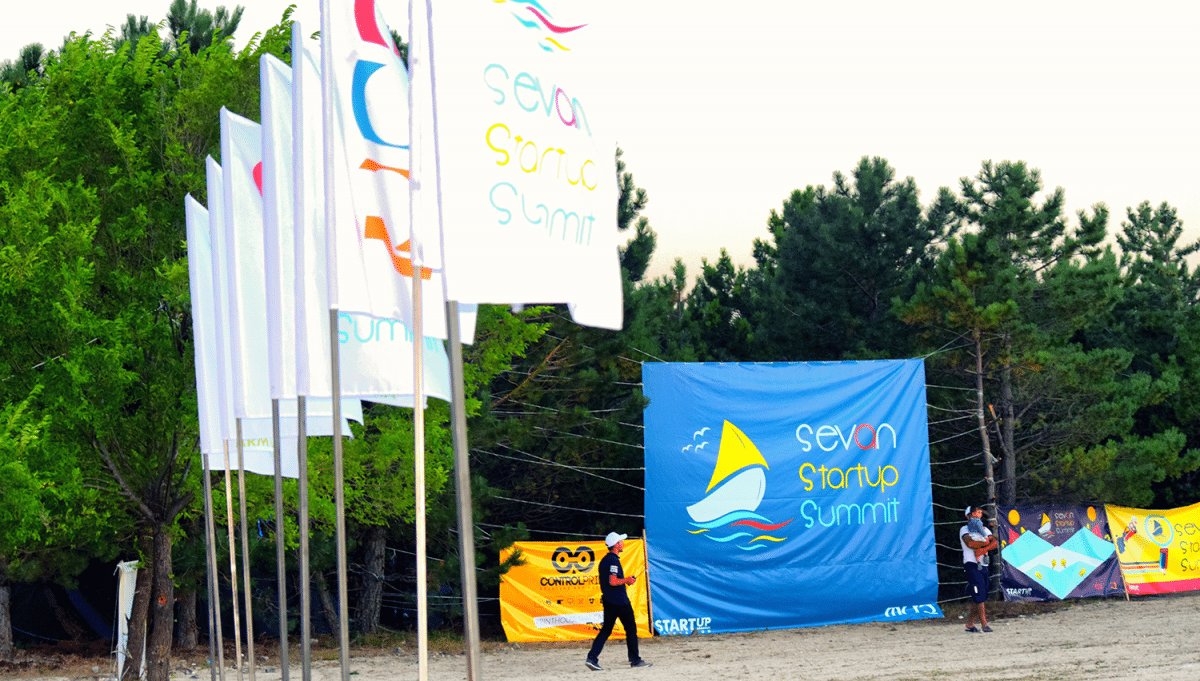 The first event of SSS occurred in 2016. The preparations for the Summit lasted more than 2 months. Organizers did a huge work to prepare the territory and attract potential investors. In 2016 there were 102 applicants and only 35 startups and startupers were selected. On 18 August the buses moved to Lake Sevan. There were battles for teams where the winners would get a prize.
So, on August 21, the 10 best teams participated in the first Startup battle. The winner was Skycriptor team which received $5,000.
On August 23, the 2nd Startup battle took place. The Energy Globe team outran 25 other seed startups by receiving a prize of $2,500. In addition to the Startup battles, individual investors made a contribution of $30,000 to the prize fund.
Interesting speeches were made by more than 20 speakers and 3 business trainers who presented the entire cycle of how an idea can be transformed into a successful working business.
Foundation
The head organizer of the Summit is the Startup Armenia Foundation. A group of young people, who previously succeeded in a number of startups, founded the Startup Armenia in March 2016. The foundation aims to help new business ideas to develop, organize events where startupers will have an opportunity to show their projects and get support from the foundation. In Startup Armenia site they write about their aims in details:
To support novice and the ones who already passed a certain way, help them to stand up, to put in a right way of development
Periodically organize events, where startupers will have an opportunity to present their projects and get support from the foundation.
Invite experts and speakers from abroad, who will help startupers to improve their skills and use them in their own projects, and they can imagine steps for entering the market
Create an environment where the authors of different projects will meet with local and foreign investors, employers and other business representatives and with the help of them, they will have an opportunity to acquire investment for their own idea.
Organize and implement educational and startup projects and events both in Armenia and in abroad.
Promote innovative thinking, innovative business development in the Republic of Armenia.
Founders
As it was mentioned above founders are a group of successful young people. who created this event. Below are some of them:
Hakob Hakobyan
Here is the founder of Startup Armenia. Hakob Hakobyan in his Linkedin account writes:
"I'm looking back through a year of Startup Armenia Foundation activities and feeling proud of my team!"
And it's obvious that Startup Armenia is going to be more successful in the future. From one of his interviews, we learn about the Foundation in details.
"Sevan Startup Summit actually started in 2009. From 2009 our team organizes educational forums in a camp format, and, I can say, Sevan Startup Summit is the logical continuation of those forums. Those forums have mainly had an aim of connecting the young people, bringing around patriotic concepts. And from the experience of the years, we understood, when Armenian young people are gathered and live in this environment, in case, we make the main purpose come true."
Tigran Petrosyan
Tigran Petrosyan is the director of Startup Armenia Foundation.  Here is what he says about Startup Armenia Foundation in his Linkedin account:
"We decided to create the Startup Armenia Foundation, which seeks to break stereotypes in education and the business sector, by giving young people the opportunity to launch and develop a more efficient and up to date activities."
In "Bari Luys Hayer" TV program given interview Tigran Petrosyan says:
"When we organized educational forums in Sevan National Park every year till now. During the forums, the president and prime minister visited us. Some startup projects were created, which later became business projects and now they are working in Armenia. As an example, I can say prokat.am "
Vahag Rapyan
The general manager of SSS is Vahag Rapyan. In the interview given to the "Bari Luys Hayer" TV program he says:
"There is the "Angel Face Investment" concept in the base of the format. In this case, the investor searches for a startup project and wants to invest. "
Arsen Harutyunyan
Arsen Harutyunyan in his Linkedin account writes:
I collect new program packages and present to the Board for approval. During the Summit I also coordinate the activities related to food and economic assurance by ensuring that all participants of the camp.
Avag Simonyan
Hayk Khloyan
Marine Paytyan
SEVAN STARTUP SUMMIT 2017

"This year's summit is designed to help you on the next step to success. You will have the opportunity to create your network, enrich your knowledge and skills, get the necessary financial means and just have a good time at lake's shore."
This is how in sss.am they describe the Startup Summit 2017.
The Format of SSS
Before camping, there is a lot of work that organizers do.
Thousands of people send their business plans but only some of them pass to the main stage. There are several battles designed for participants to show off their idea, compete and get prizes.
2-minute pitch and 4 minutes Q&A. Later 6 teams are selected and grouped into 3 couples. Every team from each couple has 3 minutes for asking questions to the opponent. Later the jury has 3 minutes for Q&A.
As Gevorg Poghosyan(the director of global.am ) mentioned in his interview, there are 3 types of teams: seed stage startups ( who has idea but no product), early stage startups ( who have product, web site, but they are newbie in market) and business stage startups (organizations who want to be extended). They divide teams according to their stages and organize the event for each of the group.
Early stage and seed stage startups take part in competitions. There are different prizes for them. Business stage startups present their ideas to investors in fire pitch format. They show how much money they need for the project.
Organizers



For more follow the link.
---