Yerevan Vernissage is the ultimate place for you to get a little taste of Armenia. It is one of the most significant parts in the cultural life of Yerevan.

"Vernissage" is a french word which originally means "varnishing". It also means a private showing held before the opening of an art exhibition.
Armenians started using this word since the late 1970s.
It is a large open-air market in Yerevan, Armenia. where the best and also the most impressive souvenirs can be found. Furthermore, Vernissage mainly features a collection of different types of traditional Armenian art works.
When was Yerevan Vernissage Established?
It was set up during the 1980s by Armenian artists who started displaying their art works in the square located beside the Artists Union of Armenia (currently Charles Aznavour Square). Mainly, art students displayed their work in a small park by the Komitas Monument, right in front of Yerevan's Conservatory.
After some time, however, the Vernissage gradually moved to the Saryan Monument, right in front of the Opera House.
The exhibition-market was then eventually enlarged. It finally moved to Aram and Buzand streets. Starts with the Republic square metro station and ends up with the statue of Vardan Mamikonyan. Painters, however, are still using the Saryan Park to show their paintings and other works.
Already in the 1990s, it became one of the primary centers for exhibitions of arts. A lot of tourists visit and admire the various art works presented there. It's popularity not only attracted more artists, but also many other merchants with a variety of items for sale.
Interesting enough, not only artists were presenting their art works but also merchants started offering various items for sale. As a result, Vernissage expanded including the area between Nalbandian and Khandjian streets.
---
Currently, two Vernissages are differentiated – Paintings Vernissage and Arts and Crafts Vernissage, which is today way more popular than the former.
The Arts and Crafts Vernissage
It is located in the Yerevan center, on Pavstos Buzand Boulevard. You can find The Republic Square, The National Gallery and History Museum, the Cathedral of Saint Gregory the Illuminator and also Marriot Hotel nearby.
People, though, don't visit the Arts and Crafts Vernissage often during the weekdays. When the weekend comes, however, the picture completely changes.
Additionally, the area once was a park with wading pools and water fountains.
The Arts and Crafts Vernissage seems consists of two parts.
Where arts and crafts are more dominant.
Where things that are technical like different metals and fasteners are presented.
The second one is visited by people, whose TV, for example, doesn't work for some reason and they need a certain technical piece. Furthermore, he second part has the Soviet Union era atmosphere.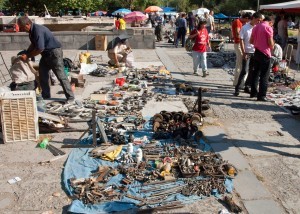 The first one, which is rich with arts and crafts is more lively and colorful. It offers jewelry, woodwork, ceramics, paintings, books, and also lots of carpets. There are also various souvenirs of Mount Ararat. You can also see the Armenian duduk, traditional Armenian woodwind instrument. Interestingly, the sound of the duduk accompanies visitors while they are walking around.
Besides that, Vernissage offers dog leashes, puppies, hand-carved walnut backgammon boards and vintage clothing aswell.
Paintings Vernissage
It is located in the French Park, around Martiros Saryan Monument. Nearby you can see the Opera House and Cascade.
Opened in 2006 in the presence of Armenian President Robert Kocharian and his counterpart Jacques Chirac the park acts as a green and peaceful place on weekdays. It is usually visited by passersby and people living nearby.
During the weekends the park turns into an outdoor exhibition of paintings at which artists usually act as sales people. The prices of the paintings also greatly vary.
If you decide to approach the sales people and ask them about their paintings, most of the times it will turn out that either they are the painters or their sons and grandchildren.
Then they will also joyfully tell you their life story. Not to mention that the art of each of those artist-sales people has become something that's being carefully passed from the father to son.
---
You can find the colorful Vernissage right in the heart of Yerevan, near the Republic Square.
It is always full of people which probably makes it the most crowded place in Yerevan no matter the season and weather.
During the weekends, the lawns in Saryan Park get full of paintings, while people walk through the corridors between them, appreciating and purchasing the high-quality artistic creations.
Yerevan never lacks gift shops, but if you ask anyone to advise you a place where you can buy various Armenian souvenirs, the first answer you are going to get is most likely "Vernissage".
Vernissage is definitely one of the most favorite places for all the tourists and guests who visit Armenia.
Artists, craftsmen, jewelers, potters, and seamstresses bring their amazing works here. Every Saturday and Sunday, starting from 10:00 AM, you can purchase any souvenir you like. So if you want to get something that will surely remind you of your trip to Armenia, with no hesitation visit Vernissage!
The fair offers paintings, jewelry, woodwork, magnets, musical instruments, national souvenirs, carpets, costumes, semi-precious stones, rarity, and many-many other unique things.
In just a few blocks, you will see old collections of coins and medallions, jewelry, music, books, carved wood, lace, embroidery, ceramics, posters, food, tools, parts for electronics and even pets.
In addition, Vernissage is open all year long.
So, what is Yerevan Vernissage like?
Vernissage begins with the traditional Armenian weaving. You will find varying handmade hats, bags, jackets, shoes, tablecloths, cushions made of natural materials and dyed by completely natural paints.
Mount Ararat, apricot, and pomegranate are the symbols of Armenian culture, as you may already know. While you walk around the Vernissage, you can find them on almost every corner.
There are pendants with pomegranate, key chains with pomegranate, still-lives with pomegranate. To keep it short, Armenian masters totally like this delicious symbolic fruit.  Since ancient times, it has been a symbol of fertility and prosperity for Armenians.
The concept of Mount Ararat is also very widely spread and loved. For about $ 0,6 – 1,7 you can get beautiful magnets which have Armenian mountains and other gorgeous landscapes and attractions pictured on them.
In the department of art, you will see a huge selection of paintings. The main theme usually is the beloved Mount Ararat, churches, and monasteries.
There is also a lot of woodwork at Vernissage. You know,  Armenians are the real masters when it comes to woodwork!
You will see Bibles in amazing unique handmade wooden covers. They have different sizes and the medium one costs about $ 30.
One of the most important things, the national souvenirs, which are of great interest for tourists can also be found here. They not only make your memory of the trip around Armenia last longer but are certainly awesome gifts for friends and relatives.
At Vernissage you will also find Armenian flags and Armenian crosses as well. A small sized flag costs only $1. The bigger one, in addition, costs $ 2. Amazing, right?
There are also many funny and interesting things for people with a good sense of humor. Many-coloured magnets of the Caucasian barbecue or a traditional lunch pictured on them are also present.
Vernissage is a definitely worth visiting
Vernissage is full of many unique things. It brings you one step closer to Armenian culture and traditions. You will definitely get a good handle on the country's culture.One day is never enough to explore all the colorful works of Armenian masters.
It is not possible to think that someone would visit Armenia and leave without seeing the Yerevan Vernissage open market, shopping mall, bazaar and also all-around cultural curiosity center.